You will be blown away by how delicious and addicting this divine raspberry gelatin dessert is.  It has an array of incredible flavors and textures in two different layers.
It truly is divine.  It's sweet, fruity, fluffy, and smooth all at once.  Every time we take it to a get-together I'm asked for the recipe.
You'll like the crunch of the raspberries, pineapple, lemon, and pecans (if you add them).   And it has the sweetness of whipped cream and marshmallows.
At home it disappears very quickly.  When it is firming up in the fridge, I am constantly being quizzed, "Can we eat it yet?".
You probably have sugar, vanilla, and cream cheese in your home pantry so here's what else you'll need to make it.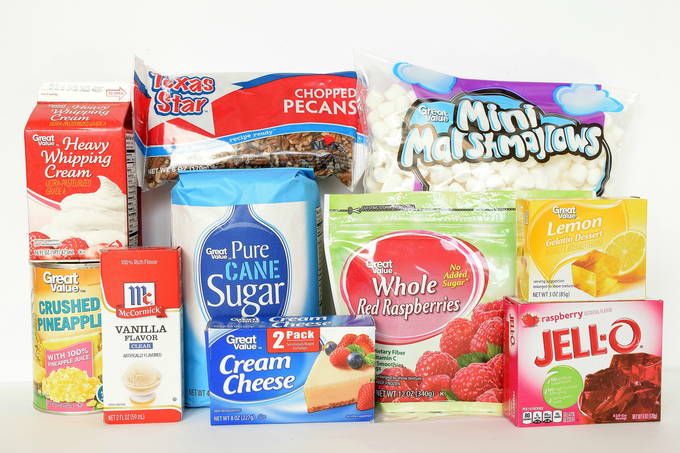 Great Value™ Heavy Whipping Cream 16 oz. (IN STORES ONLY) $2.54
Texas Star™ Chopped Pecans 6 oz. (IN STORES ONLY) $6.48
Great Value™ Mini Marshmallows 10 oz. (IN STORES ONLY) $.96
Great Value™ Crushed Pineapple 20 oz. (IN STORES ONLY) $.97
Great Value™ Cream Cheese 8 oz. (IN STORES ONLY)
Great Value™ Whole Red Raspberries 12 oz. (IN STORES ONLY) $3.86
Great Value™ Lemon Gelatin 3 oz. (IN STORES ONLY) $.36
Jell-O™ Raspberry Gelatin 6 oz. (IN STORES ONLY) $1.08
Here's how you make it.
Put 1½ c. marshmallows and 8 oz. cream cheese in a bowl.  Set aside.
 In a pot, bring 1 c. pineapple juice to a boil.  Remove from heat and add lemon gelatin.  Stir until it is dissolved.  Pour into the marshmallows and cream cheese bowl.
Beat with mixer.  Set aside.
In another bowl, mix 16 oz. whipping cream on medium-high speed until thick then add 2 T. sugar and ¼ tsp. vanilla and mix a little more.
Pour in the gelatin-cream cheese mixture and mix.  Fold in pineapple that was squeezed.   Pour into 9 x 13" baking dish and level it evenly in the pan.
Refrigerate for about 45 mins.
In a new pot, boil 2 c. water.  Remove from heat and add raspberry gelatin.  Stir until dissolved.  Add berries and ½ c. marshmallows.  Stir until marshmallows melt a little.  Pour over first layer.
Optional:  Sprinkle ¼ c. pecans on top or if only half of your family likes nuts (like us) then sprinkle 1/8 on half.
Refrigerate and let set 1½ hours or until firm.  Serves 24.
I really love the half that has pecans sprinkled on it.  It's incredible with or without them.
This recipe is in my favorites section.  I've taken it to potlucks and served it at holiday dinners.
But, don't wait for a special occasion.    It's divine.
Divine Raspberry Pineapple Dessert – Recipe
See you at Walmart!
Jennifer