These tarts taste so very good.  They are made of sugar-sweetened berries, whipped cream cheese, flaky crust, and frosting.
And they are super cute!  The mini chocolate eyes and traditional colored sugars really give them that Peeps look.
When those things come together it's a real treat.  It may look like a cookie from the outside but inside it's a pastry.
The filling is made easily with four different berries – blackberries, raspberries, strawberries, and blueberries.  You sweeten the berries with sugar and add whipped cream cheese.  The filling is so delicious you'll want to make more even after you've baked the tarts.
Making the tarts takes some time so I used a quick premade pie crust.  This Pillsbury crust is nice and flaky.  But, you can make a homemade pie crust if you'd like.
To make these tarts, you'll need these items.
Great Value™ Whole Berry Medley 16 oz. (IN STORES ONLY) $3.86
Great Value™ Whipped Cream Cheese Spread 12 oz. (IN STORES ONLY) $3.00
Nestle Toll House™ Semi-Sweet Chocolate Mini Morsels 12 oz. (IN STORES ONLY) $2.22
Pillsbury™ Pie Crusts (2 ct) 14 oz (IN STORES ONLY) $2.76
Wilton™ Sprinkles Bright Sugars 3.25 oz (pink, yellow, purple, green) $4.00
My colors matched closely with the pink and purple peeps (shown on the package below).  But the Bright Sugars container had some pink sugar mixed in with the purple.  So, check the colors in the container before you buy it and keep it upright.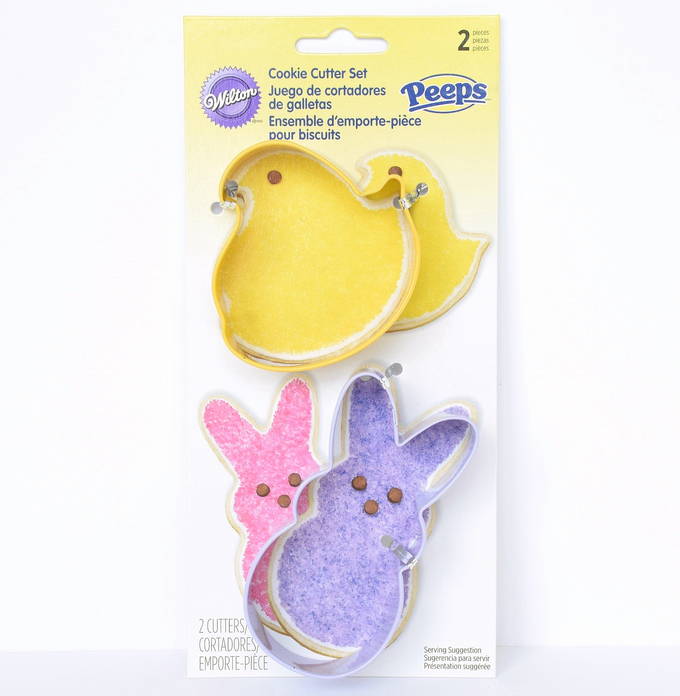 Wilton Cookie Cutter Set – Peeps (2 pcs) $1.88
I was so excited to see Wilton's™ Peeps™ bunny and chick cookie cutter set at Walmart.  The very first thing I made with them is berry filled tarts.  These cookie cutters are colorful and well made.  The chick is 2½" wide and the bunny is 4" tall.
Here are the details on how to make them.
Preheat oven to 400º and line baking sheets with parchment paper.  Add the fruits to a food processor.  Pulse for a few seconds until they are crushed up.  Then add cream cheese and sugar.  Mix for a few more seconds until just barely combined.  Do not overblend.
Unroll the pie crusts onto a lightly floured surface.  Use a rolling pin to make sure they're smoothly rolled out.
Use the Peeps™-shaped cookie cutters to cut the dough into shapes.  Continue to work the remaining dough by first brushing off any flour on the back.  Roll the remaining dough out to 1/8" and cut again to get 32 shapes total.  Make sure you have an even number of each kind (for top and bottom pieces).
Put 1 to 1¼ teaspoons of the filling in the center of 16 shapes.  Working one at a time, wet a pastry brush with water and lightly brush all of the edges of the bottom of the shape that's going to be on the top of the tart.  Put it on top of the filling.
Gently press down on all of the edges with your fingers.  Then use a fork to carefully but firmly press down on all of the edges.  This seals it.
IMPORTANT:  Use a toothpick to poke 3 holes in the center of each tart through the top dough.
Place them on the baking sheets.  Bake for 12-13 minutes.  Let cool.
Icing:  Stir together the milk, powdered sugar, and vanilla until smooth.  Working one tart at a time, spread icing on the cooled tarts almost to the edge.
Sprinkle colored sugar on thickly over a paper plate.  Press in the tip of mini chocolate chips for eyes and a nose on the bunny.  Makes 16 tarts.
The tarts were eaten up quickly.  My family will want to eat them year round.  The frozen berry medley and filling are so good.  I plan to use them in other recipes.
Peeps Berry-Filled Tarts – Recipe
See you at Walmart!
Jennifer