Stop staring at my gingerbread house cookies! I know they look cute. Instead, focus on the perfectly soft cookies underneath with thick frosting on top.
These gingerbread cookies are special – they taste soooo good (And I've tasted a lot of different gingerbread cookies). They stay soft – they're rolled thick and not overbaked. And they have just the right amount of spices. After you cut the dough into shapes, you can't wait to eat them.
Directions
You probably have many of these ingredients in your pantry already – except the molasses.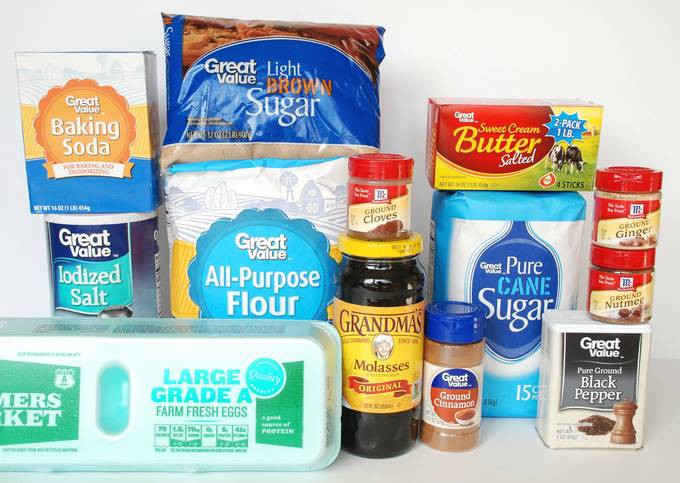 Grandma's™ Molasses Original – 12 oz. $2.88
In a medium bowl, stir together the sifted flour, baking soda, and all of the spices. Set aside.
In another large bowl, cream the butter, add sugar, and mix. Add the molasses and egg and beat until smooth.
With the mixer on low speed, add the flour mixture to the smooth a little at a time. Scrape the sides of the bowl and beat until fully combined and thick.
Divide and pat the dough into two balls, then flatten. Chill in an airtight container in the fridge for at least 1½ hours.
Preheat oven to 350°. Prepare baking sheets lined with parchment paper.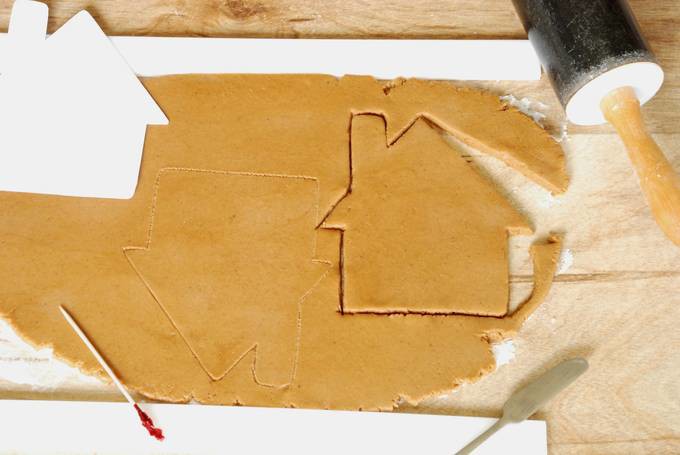 To roll out cookie dough I always use two white DōStix (www.dostixonline.com – the white sticks in the photo above). They help me roll the dough out evenly and get that critical ¼ inch thickness.
Put flour underneath the dough and lightly on top as you roll it out.
Cut the shapes with a house cookie cutter or use my Gingerbread House – Pattern. It can be printed to any size; I like mine large at 4¾ x 5¼". The cookies will be a little bigger than the pattern size – they puff up during baking.
You'll place the pattern on the dough and trace around it with a toothpick. Then remove the pattern and use a knife to cut along the lines.
Pick it up with a metal spatula and put it on the cookie sheet's paper. If needed, pick up any edges and stretch them back in place.
Use your knife and fingers to mold every corner exactly how you'd like it. Make sure edges are straight and the roof corners equal. (Because it's such a soft dough – it will need tweaking.) Before reworking any remaining dough, brush flour off the bottoms of the cuttings.
Bake for 9 minutes. Slide the cookies/paper off the sheet. Let them cool completely.
You'll want to spread my Lick it Off the Cookie Frosting – Recipe on top. It's soft and adds sweetness and moisture to cookies.
You need these four things to decorate the gingerbread houses.
Celebration by SweetWorks Sweet Shapes Pastel Heart Candies (IN STORES ONLY) $1.00
Airheads Xtremes Sweetly Sour Candy – Rainbow Berry 4.5 oz. (IN STORES ONLY) $1.38
Wilton Sprinkles – Holiday Shapes 6 cell (IN STORES ONLY) $4.88

Confetti Sprinkles
Quilt Cookie
My inspiration for this cookie came from red and white quilts.
Wreath Cookie
Think outside the box with the sprinkles. An upside down Christmas tree can become the stem and leaves of a flower. Holly leaves can turn into a wreath.
Tree Cookie
Stacking small trees can make a large tree.
This recipe makes 9 (large) to 12 (medium) cookies.   So you may want to double it.
We usually just frost them (with the boys and dad hovering / jostling to get the first one finished). But, if you want to dress them up, they're fun to decorate.
Enjoy them, they won't be around for long.
Perfectly Soft Gingerbread House Cookies – Recipe
Lick it Off the Cookie Frosting – Recipe
See you at Walmart!
Jennifer