Going to a spa is too expensive, you say?  You don't want to take the time and it may even feel a bit selfish?
But you should take the time out of your busy life to treat yourself.  You need time to unwind, relax, be at peace from all distractions, and just be.  It's OK to recharge your batteries and take a break for yourself.
Make your own "spa experience" at home.  You deserve a little alone time.  It doesn't have to be for hours.  And don't let your kids get in there with you.  Or it could turn into a swimming party.
Treat yourself.  Prepare a cold drink (a smoothie if you can).  Don't forget to buy some of your favorite sweets, maybe even some chocolate.  Listen to music you enjoy – soothing music.  And dim the lights.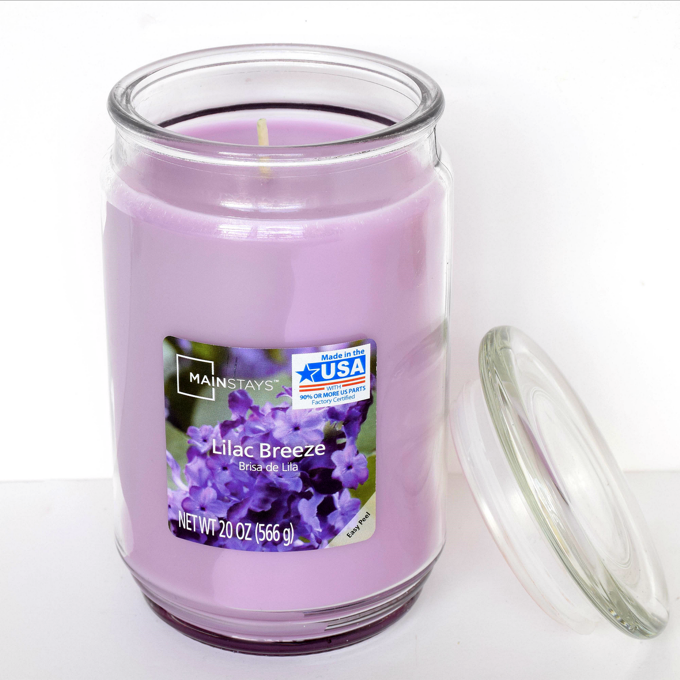 Mainstays™ Lilac Breeze Candle 20 0z. $4.86
Candles will give nice soft lighting.  Use scents that you like.  This lilac breeze candle exudes more than just lilac flowers.  You also detect aromatic greens, violet, woods, and a berry-infused musk.  The scents may lift you to a more peaceful feeling.  It's a gentle lilac, not overpowering.   Lilac reminds me of the lilac bushes that grew in the corner of my parent's back yard.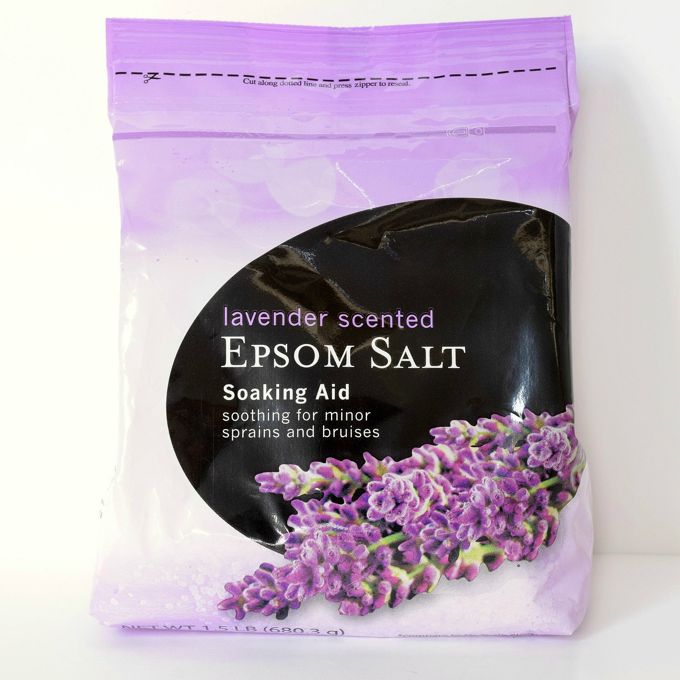 Lavender Scented Epsom Salt Soaking Aid 1.5 lbs $1.98
Pour these aromatic bath salts in your warm tub water.  They can help relax and soothe your muscles.  The bath salt quickly dissolves and makes the water softer.  It's a beautiful scent that remains even after the bath.
Relax.  Let go of all your worries and "to do list" thoughts.  In fact, don't picture anything or anyone.  Focus on the candle scent, the nice warm water, and the taste of your "favorite sweet".
NSPA by Nirvana Spa™ Passion Fruit Shower Scrub 7.6 oz. $5.48
Soak for about 10 minutes (or more!).  Then use this granulated body scrub and a loofah to exfoliate your skin.  It will buff away dry dead skin and gently reveal fresh new smooth skin underneath.  Don't forget your feet!  It has vitamins A, E, & B5 to nourish your skin.  You smell mostly passion fruit with a little bit of coconut.
Aveeno™ Stress Relief Moisturizing Lotion 12 oz. $6.97
Dry off from your bath soak.  Now rub "moisturizing lotion" into your skin to lock in moisture.  It's perfect during the dry winter months.  The lotion has a lavender scent with chamomile and ylang ylang oils in it.  It refreshes your skin.
Body Fantasies Signature Twilight Mist Body Spray 3.2 oz. $2.88
This body spray is fruity, floral, and earthy.   It's light, pleasant, and pretty.  The spray is not overwhelming – even with all the scents.  It has mandarin, coconut, and plum scents.  The flower scents are magnolia, tuberosa, tiger, orchid, and violet.  And it has earthy scents of sandalwood, musk, tonka bean, and vanilla. The body spray is a small size.  So, it easily fits in a purse or a travel bag.
Take time to decompress and de-stress.  It's OK to take 30 minutes or even an hour to have some serenity and indulge.   A candle sets the mood and gives you soft lighting. The warm bath salt water helps you relax.  The scrub revives your skin.  The lotion soothes and nourishes it.  And the spray gives a nice lingering reminder of your "spa experience".
So, indulge yourself or give this spa to someone who needs to be refreshed!  Put these items together in a gift bag with a special note for a new mom, your sister, or a friend.
See you at Walmart!
Jennifer