When the garden center starts to fill up with garden, yard, and patio décor – you can't get me to leave. I found so many decorative things this year – rain gauges, solar lights, wind chimes, and bird feeders.  I feel perfectly at home there, excited about what I want to plant in my garden as well as how I want to decorate it.
Every year I like to add something new to decorate my yard and garden.  I find that it brings a spot of color and fun.  Plus, it's so much more welcoming to children.  They love to hear the chimes and watch the solar lights change color.
Yard décor is even better if it can feed the beautiful birds that visit as well.  It's exciting when we see new types of birds.  I run into the house to grab my camera before they're gone.
Mainstays™ Ceramic Bird Solar-Powered Decorative Light  (IN STORES ONLY) $9.88
Mainstays™ Metal Sunflower Solar-Powered Decorative Light $12.97
These two solar lights stood out – above and beyond the normal lights.  The ceramic bird is stunning – so nicely made.  It is 3 x 3¼ x 4¼" long.
The yellow flower is big at 7" wide.  The large bulb on it is made of crackled glass. The light changes color – so cool!  Both of the supports on these solar lights are 33" long.
Heath Outdoor Products™ The Townhouse Bird Feeder $15.47
Among all the traditional bird feeders, this townhouse has such a modern look.  The color would be nice if you photographed birds on it.  It should attract small birds.
The lid locks to keep out squirrels.  To open it, press the knob on top and raise it up, then lift the lid to add bird seed.  Surprisingly it holds up to two pounds of bird seed.  The seed comes out at 4 different ports on the bottom tray.  It's made of steel with very strong cable and is 10" tall.
Artistic Collection™ Hand Crafted Wind Chimes (IN STORES ONLY) $9.97 each
For bronze wind chimes, I found birds, butterflies, frogs, flags, ladybugs, and lots more.  It took me about 20 minutes to decide on these chimes.
I love the marbles, glitter, and how colorful they are.  They're all about 4-5 inches wide and 28" long.
Mainstays™ Solar Rain Gauge (IN STORES ONLY) $15.28 each
The flowers, insects, and scrolled metal on this rain gauge are amazing. They are beautiful – so pretty when the bulbs light up during the night.
But, you have to be careful when these fill up.  The glass cylinders are marked, but the "inch" marking isn't an actual inch.  The 5½" mark is equal to about 7 real inches.  Confusing, huh?  So you'll have to find the lines that work for you.  They're 15" long on a support that is 14" tall.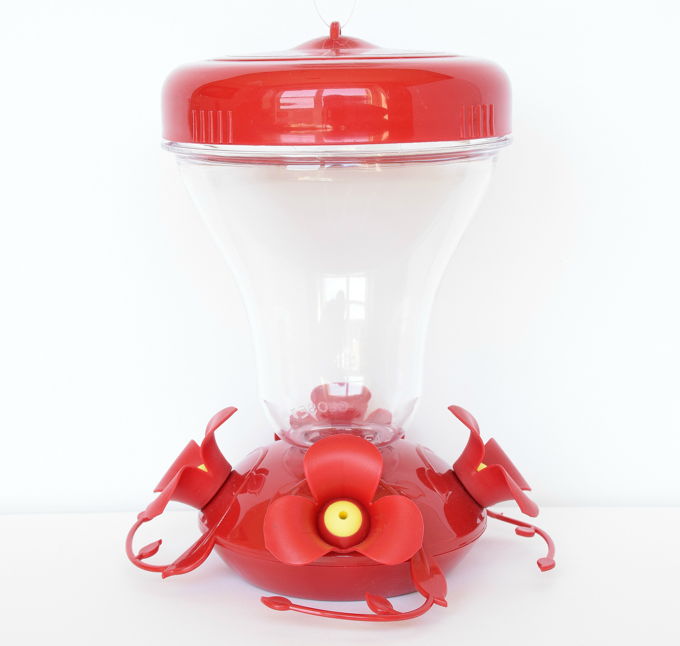 Perky-Pet™ Magnolia Top Fill Hummingbird Feeder $7.23
This magnolia hummingbird feeder is the prettiest one of its group.  It looks pretty easy to take care of and holds 16 oz.
I was surprised to find a tag with an "instructional scan code".  So, you can connect to a three minute, easy to follow YouTube instructional video on how to fill and clean the feeder.
Mainstays™ Wind Chime – Butterfly and Rooster $9.84 each
These decorative wind chimes are weather resistant and for both indoor and outdoor use. The design is about 3-4" wide and the length is 24".
The rooster has my mom's name all over it.  It looks just like the rooster weathervane on her garden shed roof.  The butterfly wind chime is more my style.
So, go out, have fun choosing your decor.  Make your garden and yard look good!
See you at Walmart!
Jennifer