For Christmas, I love big decorations on my front porch or entryway.  I want guests to enjoy my decor when they first come in.
These nutcrackers, tinsel decor, and lighted hanging sphere are very nice.  Small decorations are easy to decide on.  But a big item requires space for storage – so it has to be special.
Holiday Time™ Glitter Decor Nutcracker (IN STORES ONLY) $19.74
This nutcracker has black marabou feathers that look like real fur.  I adore the detailed snowflakes on his shoulders and boots.  He has large rhinestones and thick glitter.
He's in a 3-D form that's open on the back so he can rest against a wall.  But this makes him lightweight and delicate so he'd probably be better indoors.  He's 10" wide, 4" deep, and 2¾' tall.
Holiday Time™ Christmas 33" Wooden Nutcracker Decor $19.74
Here's a stunning nutcracker greeter made of wood.  He has a very sturdy base.  I like the colorful glitter, the fur on his beard, and the ribbon on the present.  He's 12" wide, 4½" deep, and 2¾' tall.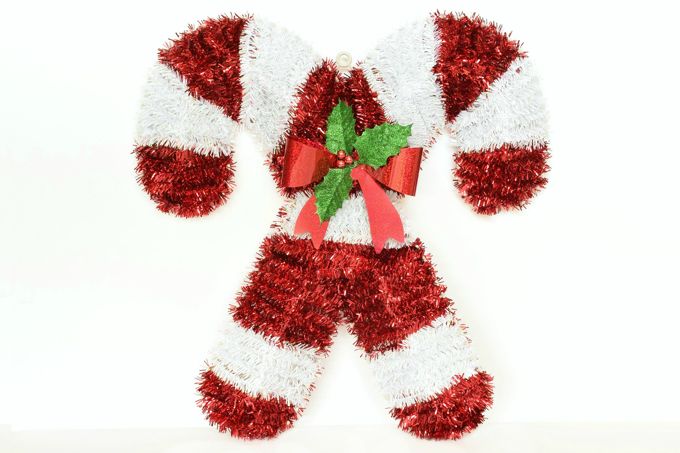 Holiday Time™ Candy Cane Tinsel Decoration (IN STORES ONLY) $7.44
You can't miss these large tinsel candy canes.  The shiny bow and holly in the center look good.  The thick metallic tinsel makes these stand out.  When we put this in front of our house or fence – it can easily be seen from the street.  It hangs from a loop at the top and is 1½ x 1½'.
Holiday Time™ Tinsel Sleigh Decor (IN STORES ONLY)  $7.94
This tinsel sleigh is really special.  It has stripes along the runners, holly on the side, and is open in the middle.   So it can hold Christmas letters, goody bags, sweets, or decorative ornaments.  It is 14" wide, 9½" tall, and 5¼" deep.
Holiday Time™ Christmas Lights 8" Outdoor Light up Metal LED Sphere $11.84
This hanging sphere comes in silver or gold and is big at 8" wide.  It's striking with the scrollwork and pretty red glitter.  Small lights are all over the sphere to give it a bright glow.  You can see it light up if you press the "try it" button.
And it has a timer to set the lights for 6 hours and is off for 18.  The lights can be set at:  steady on, flashing, and fading.  There are 18 cool-to-the-touch LED lights.  Plus, if one burns out the rest remain lit.  It operates on 3 AA batteries.
This Christmas decor is special.  You will enjoy it for many years.
See you at Walmart!
Jennifer