The Christmas decor theme "blows it out of the park" – very cute.  It features reindeer, snowmen, huggable Santa, and lots of forest animals who like to wear scarves.
Holiday Time Round Tray (IN STORES ONLY) $1.97
So cute – you won't want to cover this tray up with cookies. This metal tray is about 12 inches wide.
Holiday Time Reindeer Towel  (IN STORES ONLY) $1.94
Holiday Time Owl Potholder (IN STORES ONLY) $.88
Holiday Time Snowman Towel (IN STORES ONLY) $.88
I love the reindeer towel. It was priced higher because the fabric is thicker and more velour. These kitchen towels were there one week but gone the next.
Holiday Time  Mini Ornaments (IN STORES ONLY) $1.98
The artwork on these ornaments is so detailed and pretty. The red glitter is a nice touch. They are about 2 inches wide.
Bird and Owl Paper Bags (IN STORES ONLY) $1.28 each
Merry Christmas Bag (IN STORES ONLY) $1.48 each
I wish the bird on this bag came as a figurine. The gift bags come in many sizes.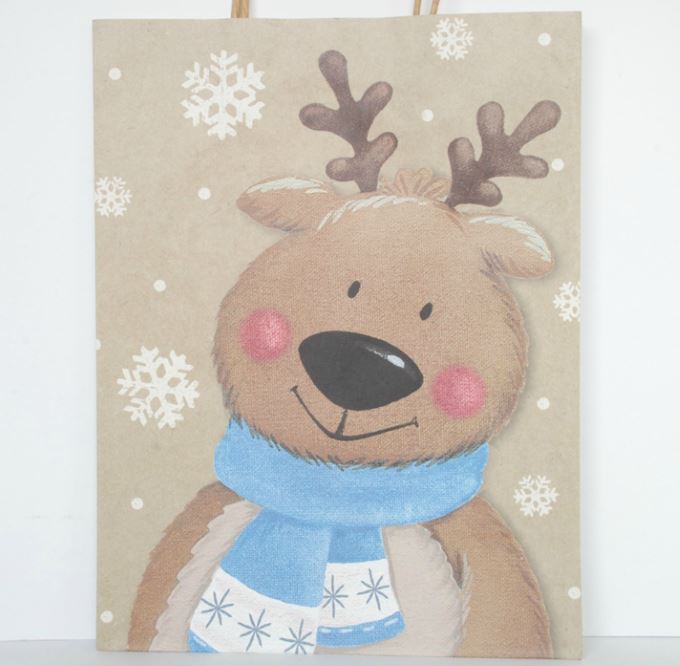 Reindeer Paper Bag (IN STORES ONLY) $1.92
Loved the close up of this reindeer.
Snowman Drink Dispenser (IN STORES ONLY) $4.97
How adorable is this drink dispenser? He would look good on a cookie jar too. They also have a Santa dispenser with a black belt around the center. My kids will be happy to see him every time they open the fridge. He's about 12" tall.
Holiday Time Half Gallon Tin Cozy $2.94
This sweet tin container was a great find. It will look nice with some Christmas treats in it for our cookie exchange. It is about 6 inches wide.
Christmas decor is flying off the shelves. So if you see something you like, get it, or it will be gone.
See you at Walmart!
Jennifer