Can you believe these ADORABLE animals are only made with hearts? My oldest daughter and I had a ridiculous amount of fun making them. When she came up with a heart that looked like cheese – I just squealed at how clever it was.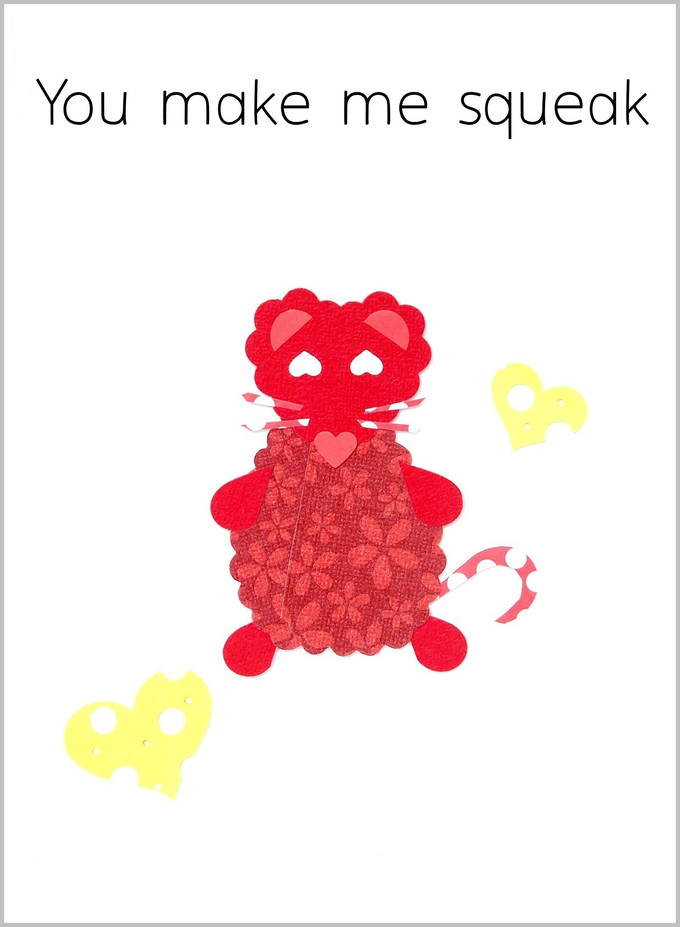 We picked an animal and both started making our own versions. We compared the two versions and then we both worked on the best design. We didn't want to stop. There are so many different ways to make them.
We made the animals and came up with great extras for each animal. They started looking like a scene, so we added sayings and turned them into Valentine cards.
We really loved the bright colored and polka dot papers from Walmart for the animals. Here and there I did add a few patterny papers I had at home.
Colorbök™ Cardstock – Spots 12 x 12" (30 sheets) (IN STORES ONLY) $5.00
Astrobrights™ Cardstock Double Color 8.5 x 11" (25 sheets) (IN STORES ONLY)$4.22
Fiskars™ Medium 1" Heart Punch (order site to store) $11.17
Martha Stewart™ Layering Deco 1½" Heart Punch (order shipped to home) $18.42 + $7.28 shipping
Clever Lever™ Extra Jumbo Silhouette and Embossing Punch Heart Butterfly (order shipped to home) $11.39 + $6.36 shipping (for the small hearts it makes)

Jumbo lattice 2¾" heart paper punch (not available at Walmart)

Fiskars™ Large 1½" Heart Paper Punch (not available at Walmart)

Small ½" heart punch (not available at Walmart)

Marvy Uchida™ Small 3/8" heart punch (not available at Walmart)
As for all the heart punches, you don't have to use the ones I did. You can just cut out your own hearts. I really liked using the punches that had scalloped edges.
The animals would look great on a Valentine mailbox. Or they could be used as gift tags. I plan to make really large versions to use as Valentine Party wall décor. They don't have to just be cards – there are lots of uses for them.
In the directions I have photos of exactly how the animals were put together to make it easy for you.
I think my daughter and I should do more competitive craft making. Hee Hee. It really brought out some fun and creativity.
I hope you had a wonderful Valentine's Day and that you feel loved.
Heart Shaped Animals on Valentines Cards – Directions
See you at Walmart!
Jennifer