Supplies
Lego Classic Creative Bricks #10692
Cardstock
Directions
Step 1
Connect these 8 bricks as shown in this photo
Step 2
Connect 4 orange bricks together, then connect  4 purple bricks
Put them on top of the 2 tan bricks.
Step 3
Create a stack with 2 purple, 2 green and 1 red
Attach them to the back of the base.
Step 4
Create four stacks (one curved red brick and two white curved bricks in each stack).
Connect the two stacks together to form a semi-circle
Step 5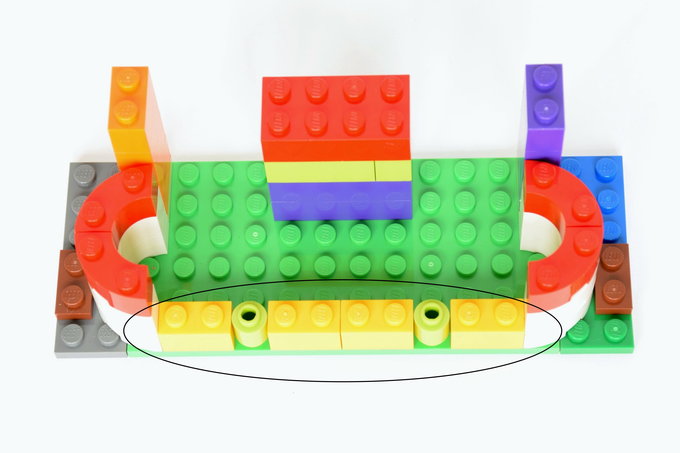 Connect the ends of the red and white stacks to the base as shown.
Attach 4 yellow bricks and 2 green circular bricks along the front.
Step 6
Attach 2 white arch bricks and 1 white window brick to the top of the yellow bricks across the front.
Step 7
Attach a small triangular green brick on the back top of the red arch on both sides.
Attach a long red thin brick on top of the center back column.
Step 8
Attach a thin square tan brick in the center of the long red brick.
Attach the light green and dark green curved bricks on the long red brick and over the tan brick as shown in this photo.
Step 9
Attach a green flower shaped brick in the center of a big red flat square brick.
Press it on top of the orange tower and the end of the red long brick.
Do the same thing on the other side using the purple tower.
Step 10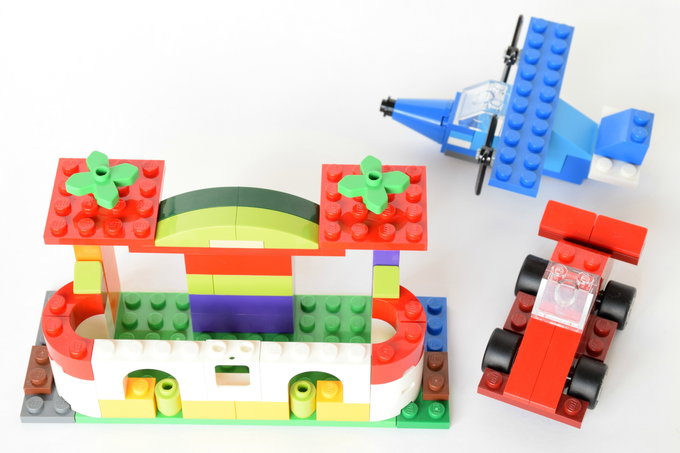 Airplane
To make the airplane, follow the directions in the instruction booklet.
EXCEPT do not add the two wheels and their gray holders on the bottom of the plane.
The bottom needs to remain flat so it can attach to the green flower shaped brick.
Race car
To make the race car, follow the directions on the Lego™ Classic Bricks website for set #10692 – Building Instructions
Attach it to the green flower shaped brick.
Step 11
Print the cards
Print the colored Father's Day Business Cards on cardstock using this link – Father's Day Business Cards
Cut them out on the dotted lines.
Write special notes to him on the cards and put them in the holder.