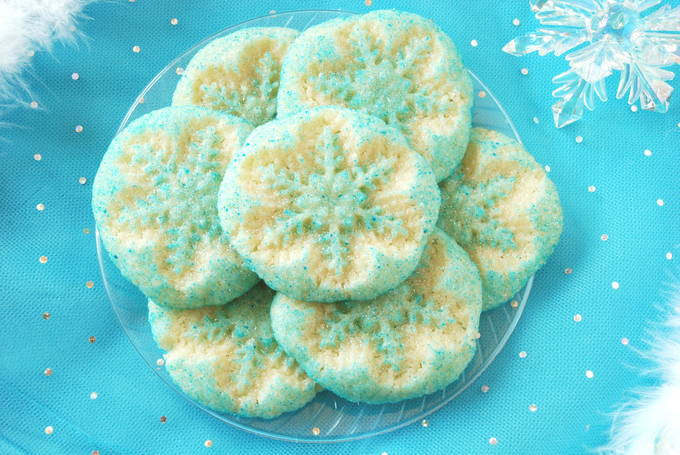 Ingredients
Sugar Topping
¼ c. sugar

sky blue food coloring
Cookies
2¼ c. all-purpose flour

½ tsp. baking powder

½ tsp. salt

2 sticks sweet cream salted butter, softened

1½ c. sugar

1 egg

1½ tsp. clear vanilla

Optional: Rainbow Disco Dust
Special Tool Needed
Directions
Sugar topping: Pour ¼ c. sugar into a small bowl. Add 2-3 drops of food coloring to the bowl.
With a small metal spoon, mash the lumps of color and stir until the sugar is completely colored and there are almost no color lumps. (It takes a while).
Cookies: Preheat oven to 350°. Prepare baking sheets by lining them with parchment paper.
In a medium bowl, stir together the flour, baking powder, and salt. Set aside.
In another large bowl with a mixer on medium speed, cream the butter then add 1½ c. sugar. Mix these for two minutes, scraping the sides of the bowl. Add the egg and vanilla and mix one minute. Pour in the dry ingredients a little at a time and mix thoroughly.
Using a tablespoon cookie scoop, scoop dough and then roll into 12 balls. Put the rest of the dough in an airtight container and set aside. (The balls must be moist in order to pick up the most blue sugar.)
Gently roll the balls in the blue colored sugar several times to make sure they're fully covered. Place on the cookie sheet (spacing them 2 inches apart). Using the medium-size plunger, carefully press the circular base down on the ball to about ½ an inch in height to emboss it. Then press the plunger to emboss the center and to help it release.
Bake for 9-10 minutes.   Slide the cookies/paper from the baking sheet to let them cool.
Optional: Immediately sprinkle on the Disco Dust.
Bake the remaining dough 12 balls at a time. Makes about 3 dozen cookies.